Allergy Screening
This pharmacy offers allergy screening.
The Biocard Celiac Test.
If you suffer from tiredness, anaemia, nausea, constipation, diarrhoea, weight loss, vomiting or mouth ulcers, then this test may help to determine if you are gluten intolerant.
1 in 100 people suffer from gluten intolerance, yet 4 out of 5 people do not know they have it!
And left undiagnosed or untreated, sufferers are at a higher risk of developing osteoporosis, infertility and cancer.
Find out if you have a gluten intolerance in just 10 minutes with the first self-test kit for detecting celiac disease (gluten intolerance).
The Biocard Celiac Test is as accurate as tests performed in a hospital laboratory.
This test costs £19.99
FastCheck Allergy Tests
A revolutionary new way to diagnose more than 24 different allergies, rapidly, accurately, safely.
Tests for more than 24 different allergens, 12 airborne allergens and 12 food allergens using two separate tests
Covers 90% of the UK's most common allergens
Safer and more comfortable than conventional allergy tests – including blood tests and skin prick tests
Results visible to the naked eye in just 30 minutes
Requires just 2 to 3 drops of capillary blood taken from fingertip or earlobe
Much more effective at detecting specific allergens than conventional allergy tests,

i.e. can pinpoint an allergy to a specific type of nut
Developed from established laboratory technology resulting in excellent performance
A great first step in diagnosing and treating allergies – developed by one of Europe's leading diagnostic specialists – DST.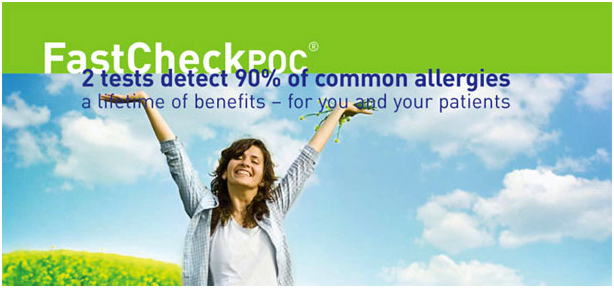 Airbone allergens – This test will look for the following airborne allergies.
(house dust mite, hazel pollen, grass pollen mix, mugwort pollen, cat epithelia,
birch pollen, latex, dog epithelia, stinging nettle, cladosporium, a. fumigatus, alternaria alternate)
Test costs £49.99
Food allergens – This test will look for the following food allergies.
(hen egg, fish mix, meat mix, shrimps, hazelnut, peanut, soy bean, rye flour, wheat flour,
carrot, celery and milk).
Test costs £49.99
SPECIAL OFFER HAVE BOTH TESTS DONE AND PAY ONLY £85.00
Food Intolerance Test
Cerascreen Food Intolerance Test
A Food Intolerance Test that's easy to use.
Many people develop unpleasant symptoms after eating a certain food which their body cannot handle because the digestive system does not produce sufficient quantities of a particular enzyme/chemical, which is needed to break down the food and aid digestion. This is known as food intolerance. Symptoms of food intolerance include bloating, nausea, diarrhoea and stomach pain.
The Cerascreen Food Intolerance Test will test for Intolerance to:- Hen Egg, Potato, Wheat Flour, Rice, Peanut, Fruits (banana, strawberry, kiwi, orange), Meat (beef, pork, chicken), Soy Bean, Gluten-free grains (amaranth, buckwheat, quinoa, wild rice), Grains containing Gluten (oat, barley, spelt, kamut, rye), Milk (goat's, sheep's and mare's milk), and Cow's Milk (unboiled)
Test costs £49.99