Medicines MOT (check up)
The medicines MOT is a structured review that is undertaken by our pharmacist to help patients to manage their medicines more effectively.
The MUR involves our pharmacist reviewing the patient's USE of their medication, ensuring they understand how their medicines should be used and why they have to take them, identifying any problems and then, where necessary, providing feedback to the prescriber.
The Medicines MOT is a way to:
improve patients' understanding of their medicines;
highlight problematic side effects & propose solutions where appropriate;
improve adherence; and
reduce medicines wastage, usually by encouraging the patient only to order the medicines they require.
What does it involve?
Our pharmacist will normally ask the patient to bring their medication (including purchased medicines) with them to the review.
Discussions with the patient may include: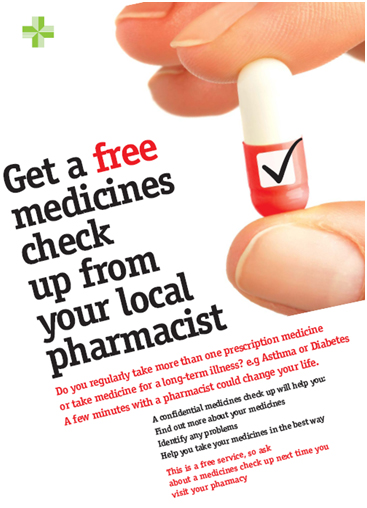 what the patient thinks each medicine is for and when and how they take it;
how compliant they are with the prescriber's instructions;
how and when they take medication labelled 'as required' or 'as directed';
advice on tolerability and perceived side effects;
dealing with practical problems in ordering, obtaining, taking and using medicines;
identification of unwanted medicines, i.e. patient is no longer taking the medicine;
identification of a potential change of dosage form to facilitate effective use with due regard to formularies and cost implications (the final decision lies with the patient's GP); and
proposals for dose or strength optimisation, provided it does not impact on the patient's clinical management.

The Medicines MOT is a FREE NHS service book yours TODAY.